Why You Should Choose ProSource Window Cleaning!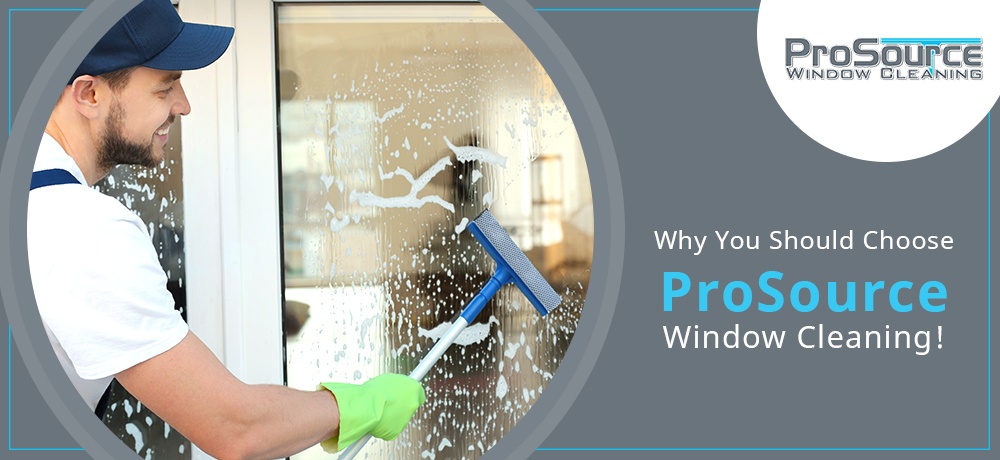 Over time, your window can get damaged due to dirt, debris, hard water, and acid rain etching into the glass and causing scratches. This can turn into an unsightly distraction to employees and visitors. To help replenish the appearance of your windows, hire a professional window cleaning service to do the job for you. These professionals are equipped with the right tools and cleaning methods to leave your windows sparkling clean in less time, with less hassle.
However, when looking for a window cleaning company, there are several factors to consider. For this, you need to put in a sufficient amount of research to find someone who matches your expectations. You need to go through reviews you find online and speak to people who've worked with them.
At ProSource Window Cleaning, we are confident about the services we provide and will not shy away from giving you references. Besides, we will be happy to tell you why we are the top name in the window cleaning industry.
We have provided excellent window cleaning and pressure washing services for the past seventeen years and have several happy clients. If you're looking for residential and commercial window cleaning and power washing services, here are a few reasons why we believe you should pick us over the rest of our competition.
Experienced
We have successfully been able to hold our exceptional window cleaning standard for over eighteen years. As we have been around for quite some time, we have gathered extensive knowledge and know which specialty cleaning products will help ensure your windows last for years to come.
Guaranteed service
We are dedicated to clients' cleaning needs and ensure that they get professionally washed windows. We guarantee streak-free shine and beautiful windows, and if we fail to do so, we won't leave till the job is done right!
Fully insured
As a locally owned and operated window cleaning and pressure washing service, we are fully insured and bonded. We have the right training and know-how to avoid accidents and injuries, ensuring you complete peace of mind.
Professional window washers
Every window is different and requires special cleaning solutions or cleaning methods to see the best results. When you hire us, you hire a team of professional window washers who will ensure that each window is cleaned correctly.
Reliable
You can rely on our excellent and high-quality service! Whatever your window cleaning needs, let us know, and we'll come up with an efficient solution that will transform your space into a welcoming and pleasant living environment.
As one of the leading providers of window cleaning and pressure washing services to Orange County, Los Angeles County, and the Inland Empire, we ensure that we exceed expectations and always put you first. We will help scrub away dirt and grime and let the light shine through. Whether you need a one-time cleaning or recurring service, we're happy to create a cleaning schedule that fits your business's needs. We also offer power washing, pressure washing, and a range of specialty cleaning services.
To learn more about the services we offer at ProSource Window Cleaning, please click here. If you have any questions about how we can help you, get in touch with us by clicking here.
---
---