A Glossary Of Common Window Cleaning Terminology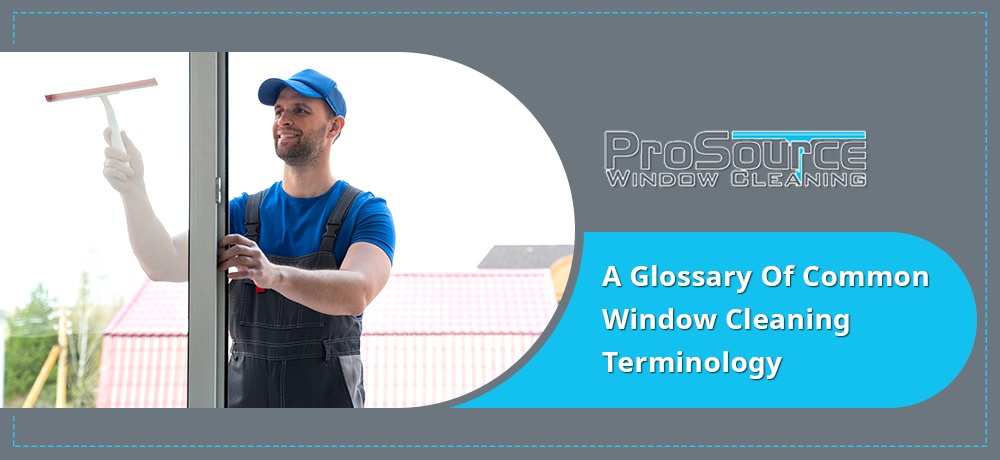 Every industry has its own language and terms. These words and phrases can be confusing to anyone who is not part of the daily operations of a specific sector, and the residential and commercial window cleaning business is no exception.
To help you understand the terms, acronyms, and phrases regularly used when availing of window cleaning services, ProSource Window Cleaning has created this handy reference guide. Here you'll find valuable information allowing you to comprehend and communicate your needs effectively.
Cuts or cut-ups
Cuts or cut-ups refer to colonial-style windows with either wood or metal partitions that divide the window into small squares.
Double or dual-paned windows
Double or dual-paned windows are windows that have two glass panes with a small space between them. Dual-paned windows are energy efficient, better for the environment, and offer superior insulation.
Condensation
Condensation in regard to dual pane windows refers to windows that have bad seals, and condensation has built up between the panes. Condensation makes the windows cloudy and impairs visibility.
Applicator
This is a piece of mop equipment that is used to wet the windows with soapy water.
Hip bucket or bucket on a belt
A hip bucket is a small hoster bucket that hangs from a window cleaner's belt to hold the mop and squeegee while not in use.
Zero-degree squeegee
This is a squeegee that has no angle built into it. It is designed with a swivel on it that allows windows to be cleaned from a distance directly in front of the glass.
Water-fed pole
A water-fed pole is an extension pole with a water line that runs up the pole to a cleaning brush at the top of the pole.
D.I. water
D.I. water or deionized water is water that has had all the minerals and contaminants removed, allowing the window to be left wet where it will dry spot free.
D.I. tank
This is a tank that connects to a garden hose that holds the filtered water free from all minerals and contaminants.
R.O. system
This is a water filtration system that utilizes reverse osmosis technology to purify water.
Stack ladders
A stack ladder is an extension ladder that comes in sections and can be stacked or put together, using only as many sections as is necessary for the job.
Water key
This four-way water tool allows the window cleaner to access various water outlets that do not have a knob on them.
Doodlebug
A Doodlebug is an attachment for the end of a pole that allows a microfiber towel to be stuck to the surface, enabling dry dusting of hard-to-reach areas.
High dusting
High dusting includes dusting items like light fixtures, fans, vents, and exposed ducts and beams. It generally means the dusting of hard-to-reach areas.
Mineral deposits
Mineral deposits refer to residual minerals that are left on the windows from water that has contaminants in it. Mineral deposits are commonly seen where sprinklers hit windows.
If you're looking for an award-winning window cleaning service in Orange County, California, reach out to the experts at ProSource Window Cleaning. Our mission is to be "Clearly Better" than our competition and be seen as Southern California's most respected window cleaning company. We will accomplish this through superior customer service and customer support for our customers while providing personal and professional growth to our employees.
To learn more about the services we offer, please click here. To get in touch with us, please click here or call us at
(714) 632-7510 or email us at info@prosourcewindowcleaning.com.
---
---