Top Five Things To Look For When Hiring A Window Cleaner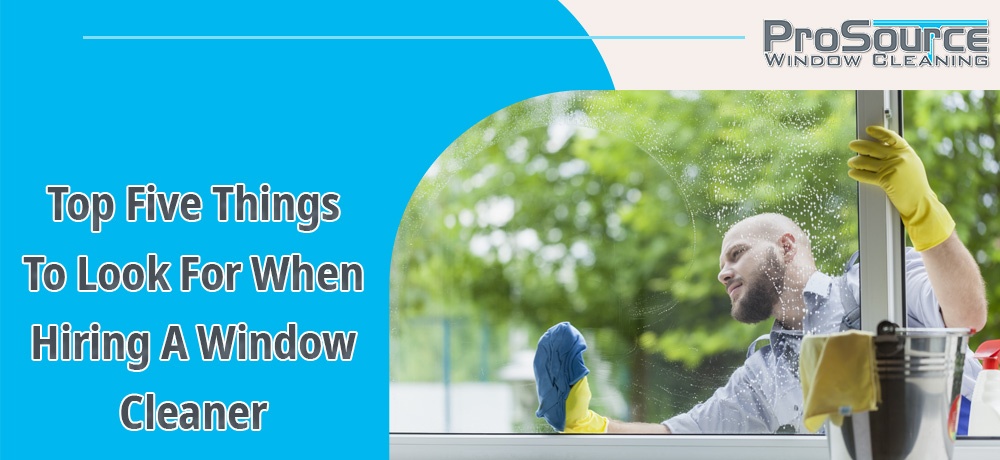 It is said that a window is a gateway to the outside world, and we believe that a sparkling clean window will make a great impression on your clients or guests. Moreover, regularly cleaning your windows can lower the chances of damage to the glass as well as the build-up of dirt and grime that could weaken the glass. The best way you can keep the window clean is by enlisting the services of a professional window cleaner. They will offer high-quality cleaning services and use the right equipment to wipe down the windows safely.
Unfortunately, there are several professional window cleaners out there and choosing one that will provide you with an effective window cleaning service can be a daunting task. To help you with the selection process, here's a list of the top five things to look for when hiring a window cleaner.
1. Insurance
The professional you hire must have the insurance to cover the job and them in case of injuries during the cleaning job. It will assure you that the damages will be compensated by the insurance company in the event of accidents on the premises.
2. Professionally attire
Always know that first impressions matter! Look for a cleaning crew that shows up in a cleaning uniform. You'll be able to gauge their level of professionalism and if they are the right individuals for the job.
3. Customer satisfaction
If you want a guaranteed satisfied job from a cleaner, then you need to check for references for their services. Ask your family or friends about the nature of their job and if they have enlisted a particular window cleaning to get an idea about their job.
4. Good reviews
A reliable window cleaner will have a list of good reviews and references. Make sure you to their webpage and social media for feedback so that you know you will receive an excellent cleaning service.
5. Availability
Lastly, ensure the prospective window cleaners you enlist are easy to get hold of and always available to pick up your call. There should be a seamless conversation between you and the cleaner, therefore, knowing about their responsiveness is a must.
If you're looking for window cleaning and pressure washing services in Southern California, reach out to ProSource Window Cleaning. We have over eighteen years of experience in providing specialized window cleaning, power washing, and pressure washing. We are consistent in our work and strive to offer a professional cleaning service to ensure complete customer satisfaction. We offer window cleaning, power washing, pressure washing, and specialty cleaning services.
To learn more about the services we offer, please click here. To get in touch with us, please click here.
---
---