Residential Cleaning Services
Residential Window Cleaning
Residential Pressure Washing
Residential Construction Cleaning
Residential window cleaning company in OC and LA. Your home is important to you, so it's important to us. At ProSource Window Cleaning, we go above and beyond ensuring satisfaction starting at the first knock. Our company primarily caters to those who appreciate high end quality residential window cleaning at affordable rates. Our window cleaner are trained to the highest perfect using quality products and tools. You should not accept work that is poorly performed by other companies. We want u to love the appearance of your home, that is why we strive to make sure every customer is 100% satisfied. When guest arrive at your home we will not leave you with streaks and spots of embarrassment.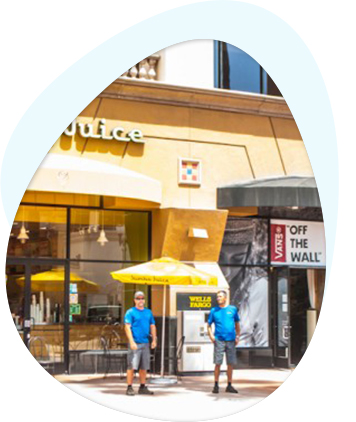 Quality Residential Window Cleaning
When our residential window cleaning specialists show up at your doorstep they will introduce themselves and go over what services they will be performing. Before coming inside they will place booties over their footwear, lay rugs below window frames to protect your flooring, and place pads at the tops of their ladders to protect all wall surfaces. We work to ensure a clean working environment, while protecting your possessions. After, prepping your residence,Our experienced residential window cleaning specialists will ensure each and every window is hand-scrubbed and squeegee dried. Then they will ensure that all edges and frames are wiped clean in order to prevent streaking and spotting. When they are finished cleaning windows, they will do a complete job site inspection and make sure you are 100% satisfied with your window cleaning as we guarantee all of our work.
ProSource window cleaning is a regular, repeat service that many customers continue to use for years. It is our goal to leave our customers windows looking beautiful the entire year. We understand the rain my cause dingy windows during certain seasons, that is why we offer a rain guarantee. Don't let old dust, or rainy days ruin the appearance of your home. With ProSource's residential window cleaning services, we will ensure your home has the cleanest windows on the block.
When we pressure wash your home's siding we utilize cold water with PSI ranging from 1000 – 4000 depending on the surface. We not only pressure wash it, but we scrub it with cleaners that keep your surface lasting longer. At ProSource we do it right! Regardless of the type of exterior requirement, we are experienced and get the job done with maximum effectiveness. We specialize in all facets of pressure washing, and we can clean and restore all types of surfaces and substrates. See the list below for some of the common surfaces we clean.
Vinyl Pressure Washing
Aluminum Pressure Washing
Stucco Pressure Washing
Wood Pressure Washing
Brick Pressure Washing
Cedar Shake Pressure Washing
Wood decking Pressure Washing
Composite Decking Pressure Washing
Cement Pressure Washing
Garage Floors Pressure Washing
Driveways Pressure Washing
Awnings Pressure Washing
Benefits of Residential Pressure Washing
It is essential maintain the exterior of your home. Environmental hazards such as soot, mold, algae, and oxidation can creep in making the outside appearance of your home look atrocious. Continual neglect may eventually lead to the complete destruction of property surfaces, leading to less options, or renovation. Regular cleaning, such as residential pressure washing, can help prevent premature aging which will ultimately reduce maintenance costs and save you money in the future. When home owners compare our low price of residential pressure washing to cost of home repairs and replacement, they choose to have this type of cleaning on a regular basis. Furthermore, it's important that residential surfaces are treated carefully and professionally. ProSource brings experience, equipment, insurance, and out 100% satisfaction guarantee. Many unexperienced residential pressure washing services could leave damage to the property. By contracting us, we ensure the quality of the job, as well as the safety of your home. Aside from long-term savings, residential pressure washing leaves your home looking brand-new. Whether you are preparing for the holidays, or just love a clean home all year, we are the team for you.
Contact ProSource Window Cleaning for a FREE Home Inspection
Many well-known builders and construction companies choose ProSource for their new construction window cleaning because we consistently deliver world-class service. We are able to work with your cleaning schedules and will be on time, every time. Working for you is our pleasure but we know its all about making YOUR client happy. From start to finish we are clean, neat, courteous, detailed, experienced, safe, and we will always consistently deliver top-notch new construction window cleaning. Part of consistently delivering world-class service is our systems. We have systems for everything we do whether its cleaning perimeter glass, cupboard glass, interior transoms, or french doors; when you follow these systems you can't mess up! We guarantee our work! At ProSource, we do it clearly better!